We left Chania and on our way out visited the Allied Forces War Cemetary. A beautiful spot and very very neat and well kept. Visited Pops' brother's grave. 446 New Zealand soldiers buried there with soldiers from UK, Australia and a couple of other places, majority were from UK and NZ.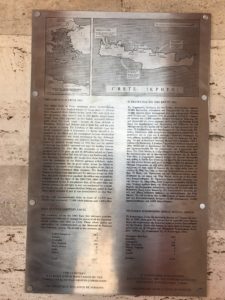 Then off we went to Heraklion (pronounced Irakleeon) in our pathetic car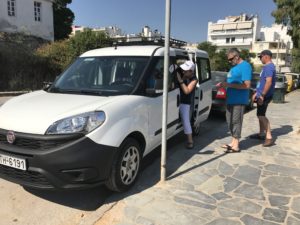 Nothing of any event happened on the drive, thanks to Kelvin's great driving, the motorway speed limit was very low and we arrived without incident at our hotel.
The hotel was lovely and we had a delicious lunch at the hotel restaurant, probably the best food we have had so far. I have to say that we are very spoilt with the quality of food we have in NZ.
The next morning we caught the Ferry to Mykonos, it was an overcast and reasonably cold day (20 degrees) so a good day for travelling but not for traditionally beautiful Greek Island photos.
Today is a lovely sunny day about 23 degrees, which is the coldest we have had so far in terms of heat, but great for mooching around the pool/beach and having a lazy day.