Goodbye Santorini, its been great but your airport is a circus, seriously worst airport I've ever been in. After arriving the usual 2.5 hours before our international flight we had to go in and out of the building to check in, then get our bags scanned and then finally to go through to the gates. There were a lot of people there and standing room only. One little kiosk with food (only a choice of two things) and enough seats for about 10 people. After waiting two hours we pushed through towards our gate and discovered there was a lounge upstairs (the sign was hidden behind an air conditioning unit. Oh well no time we were due to board. That involved queuing for a bus which then took us to the plane, anyway 3 hours after we arrived at the airport we finally took off.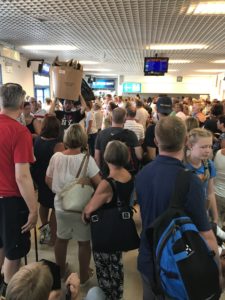 Final observations on Greece:
Linen is worn a lot, and I must admit it does feel cooler wearing it. Traffic is chaos but seems to work, in Santorini its mainly scooters and ATV (4 wheel motorbikes). Our transfer to the airport was in a Toyota RAV4 (whereas our pickup from the airport was a luxury mini van) hmm. Oh and they don't wear helmets on their motorbikes.
Overall we especially loved Mykonos, but felt Greece in general was expensive.
Landing in Venice was wonderful, absolutely love this place, felt like coming home, such a fantastic atmosphere and the Italian people are very friendly.
We got a private boat from the airport to San Marco where our hotel was about 100 metres away, a lovely way to start our time in Venice. The picture below is what one looks like.
Couldn't wait to get out and about and go exploring.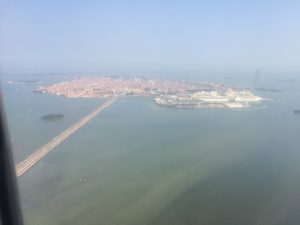 This morning we were up early and headed to Saint Marks Square and as there was not many people around at 8.30am we went straight up the bell tower, for fabulous views and it just so happened that while we were up there the bells rang, very loud but totally awesome to be there at that time.
We then went on a Gondola ride, as there was rain forecast we thought we should go while it was dry.
Then we decided to head over the Murano and Burano. Walking towards the ferry we were stopped by a gentleman asking if we were going to Murano. It turns out they were having a promotion day and we could get a free boat a ride (in a water taxi, just like the one above), well we were in, much better than a long ferry ride. Went to Murano and watched some glass demonstrations, had a wander around and then caught the ferry to Burano.
Arrived at Burano and hurried to find a restaurant as it had just started to rain, found a fantastic place (picture of our lunch above) and settled in. There was thunder and lightening and torrential rain, the thunder was soo loud. After a while, a few beers and wines later the weather cleared and the sun came out, to a beautiful afternoon wandering around Burano.
Tonight was the boys last night in Venice, they head home tomorrow so we had dinner at the Rialto Bridge, beautiful seafood and great location.